Training for Education Professionals
Mental health difficulties within young people are common, with 1 in 10 aged 5-16 years suffering from a diagnosable mental health disorder. That equates to around 3 children per class. Staff within education settings are in a strong position to help with the identification of such difficulties and support young people in accessing the assessment and treatment that they may require. However for many staff in education settings they have not had the training needed to be able to help identify mental health difficulties in young people.
Clinicians at The Children's Rooms are able to provide training to staff in educational settings for the following:-
Increasing understanding of the common mental health difficulties young people often experience e.g. various anxiety disorders (including OCD, social phobia, separation anxiety, panic), Depression/low mood and how they can effect functioning within education
Increasing understanding of developmental disorders such as ASD and ADHD and common characteristics to look out for in young people
Identification and monitoring of risk including self-harm
Advice on how the above difficulties can be supported within the school environment before therapy is started and whilst it is on-going
Increasing understanding of the way mental health disorders in young people are treated in therapy e.g. through CBT and incorporating techniques such as mindfulness
How to signpost young people and parents towards professional treatment for mental health disorders
The training is provided through workshops which can be tailored to the needs of the particular organisation and the length is flexible to suit the practicalities of balancing work and professional development. The workshops are designed to be interactive and include anonymous case studies to practice the skills of identifying mental health difficulties in young people.
For further details, including fees for the workshops please call us directly.
Mindfulness in Schools
For groups or individuals working with young people in the community, youth work settings or in education, we offer the
Mindfulness in Schools .b Foundations course
, which is highly respected & is delivered within the UK & internationally. The course is for teachers, support staff, parents, youth workers who would like to develop their own Mindfulness practice. As in many ways, it mirrors the courses designed for young people ('.b teens' for secondary age students and '.b Paws' for primary age children), it provides an insight into what the young people with whom you are connected are also experiencing. Once you have completed this course and developed your own mindfulness practice for at least 6 months, you may choose to go on and train to teach a .b course to young people, although there is no expectation that you do this. There is a growing evidence base from research supporting the positive impact of .b courses on staff & students in schools.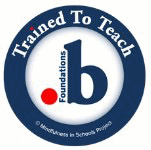 The .b Foundations course consists of 8 sessions over twelve hours in total and can be delivered in a variety of formats to suit the requirements of the school, for instance as a series of twilight sessions, or within INSET days. Suzanne Bethell, our Mindfulness trainer can deliver a taster session to a large group of staff from which a smaller group may then go on to complete a full course.
See the website for further details
http://mindfulnessinschools.org
For further information, please contact us.